American walnut plaque with gold embossed frame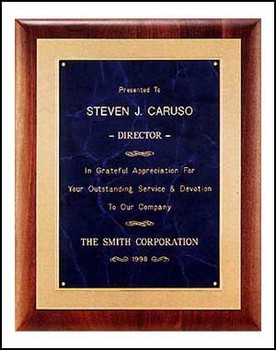 Need to send us an attachment?
If you need to send us a company logo or list of names to be engraved, please email us at and reference the order number on your receipt.
Airflyte solid American walnut plaque with a frost gold back plate with bright gold embossed frame and sapphire marble plate.
Laser engravable plate(s). Solid brass engraving plate(s). Individually boxed.
Plaque plates copyright design: TMC 2008
Airflyte solid American walnut plaque with a frost gold back plate with bright gold embossed frame and sapphire marble plate. Laser engravable plate(s). Solid brass engraving plate(s). Individually boxed. Plaque plates copyright design: TMC 2008