American walnut plaque with antique bronze frame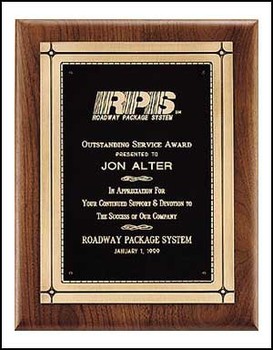 Need to send us an attachment?
If you need to send us a company logo or list of names to be engraved, please email us at and reference the order number on your receipt.
Airflyte solid American walnut plaque with an antique bronze finish Phoenix frame casting.
Laser engravable plate(s). Solid brass engraving plate(s). Individually boxed.
Casting design U.S. Pat. No. D341,713
Airflyte solid American walnut plaque with an antique bronze finish Phoenix frame casting. Laser engravable plate(s). Solid brass engraving plate(s). Individually boxed. Casting design U.S. Pat. No. D341,713